Looking for a breakthrough?
Trying to be more competitive at your club?
Hoping not to embarrass yourself in front of others or are you simply fed up with shooting in the 90's or low 100's?
If you answered yes to any of these questions, the Break 90 Blueprint is for you. This course is packed with over 2 hours of video content from Adam Kolloff specifically designed for beginner and intermediate golfers looking to speed up the learning process, take their game to the next level, and finally break through into the 80's.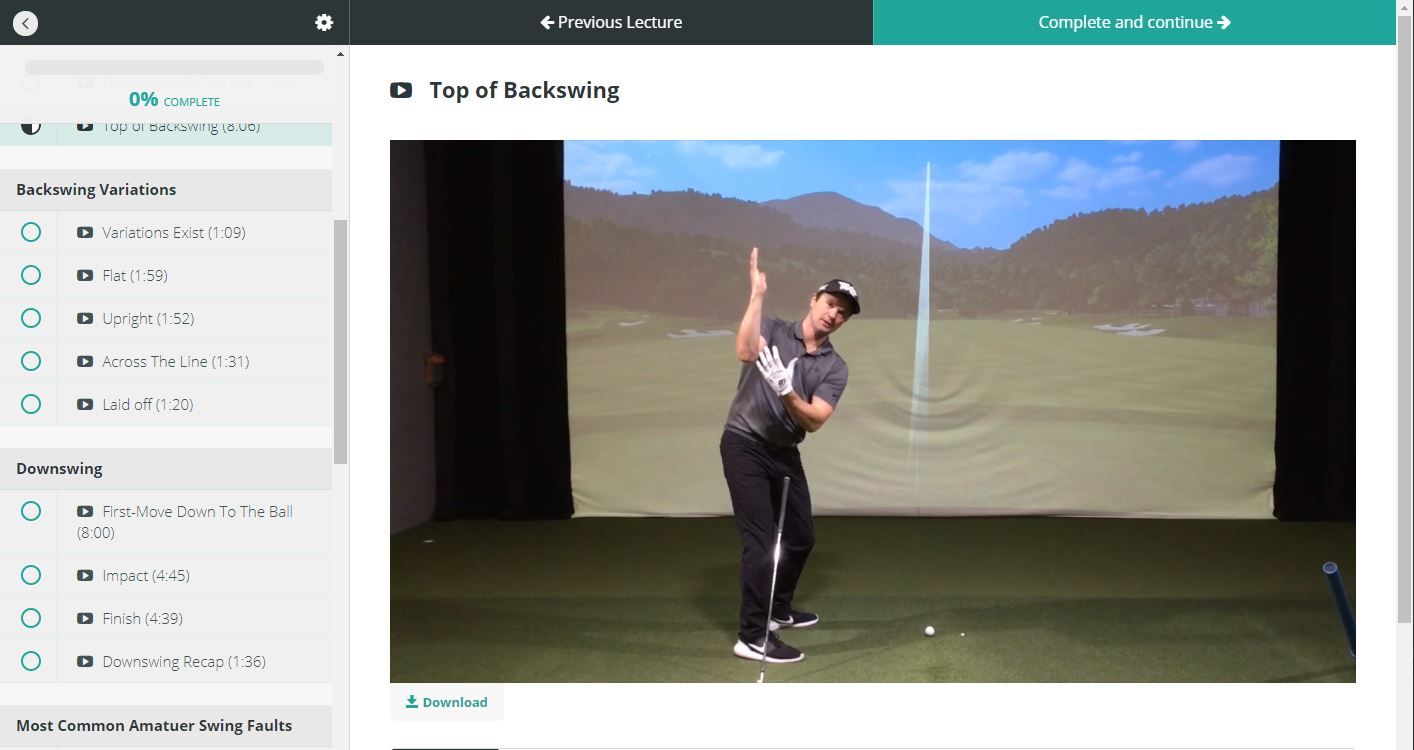 The Break 90 Blueprint will cover all aspects of the game from long to short game and help you develop better performance on the golf course. Below is an overview of the curriculum:
Setup and Posture
Learn an overview of the setup including the grip, stance, posture, and a walk in routine. This section also offers advice on what to think about when you're over the ball before you take the club back.
Backswing
Learn how to move the body and club in the backswing and minimize compensations. This section will discuss key concepts and "feels" to help you learn the key moves in order to prepare for the most important move in the golf swing, the first move on the downswing.
Backswing Variations
Discover why variations exist and what they can cause on the downswing. This section will help you understand if your variation is helping or hurting your chance at producing the ball flight you want.
Downswing
Groove the right "feel" on the downswing and learn to strike the ball more like a pro. You will learn the secrets about this crucial move including what type of thought will best suit your game. The downswing section also includes lectures on impact and the finish to complete your full understanding of the downswing.
Common Amateur Swing Faults
Does your swing fall apart? You may have a swing fault. In this section, you will learn what are the most common amateur swing faults, what they cause in the swing, and simple but effective advice on correcting them.

How To Fix A Slice/Hook
If you suffer from a slice or hook, this section will help you learn what causes the slice or hook, the common mistakes that lead to these ball flights, key moves to correct them, as well as top drills to practice at the driving range.

Common Impact Misses
Nobody is perfect. For those of you that have the occasional shank, toe miss, thin, top, or fat, this section is for you. You will learn about your impact pattern and the quick and easy corrections needed to start making center contact.
Short Game
A good short game is required to shoot in the 80's. In this section, you will learn about putting, chipping, pitching, a flop shot, and the bunker shot. Each lecture will discuss what clubs to use for each shot, that situations that require each shot, and an overview of the technique.
Bonus Features
This section includes important advice that most amateurs need help with such as a strategy when you're "in between" clubs, how to warm up before a round, how to hit a hybrid, the difference between an iron and driver swing, etc.
4-week Improvement Plan
The 4-week plan will help organize all the information and structure your practice for 4 weeks. There is video content as well as printable PDF's for each week so you know exactly what to do.
After enrolling, you have unlimited access to this course for as long as you like. All content is available to download for future reference. It is a completely self-paced online course - you decide when you start and when you finish.